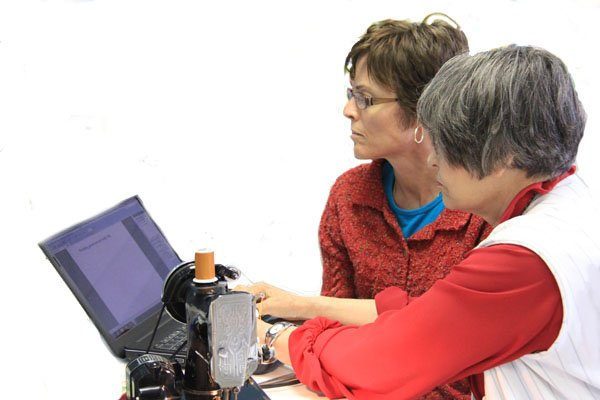 Private sewing lessons with Laurel are so much fun, the time passes very quickly. Each session lasts three hours, the necessary time for you to absorb as much as possible that day. You will then leave with homework, typically returning after at least two weeks. The lessons are taught in Laurel's studio, just north of Chestnut Hill, Philadelphia. You will need to schedule to have your time saved for you.
Because you have the option of choosing the course material you wish to learn, you will go home with information you can use right away. The supporting classroom-tested textbooks with their step-by-step diagrammed instructions make it possible for you to learn much of the work independently, speeding the learning process, reducing your costs. In the picture above Laurel and her student review instructions on the computer during a sewing demonstration. Note that they are using Laurel's featherweight sewing machine, all that is needed when high-end sewing.

Choose to learn how to fit, draft, grade to fit, fit home sewing patterns, sew using the same techniques used in industry to make clothing that sells for thousands of dollars. For more information about the program.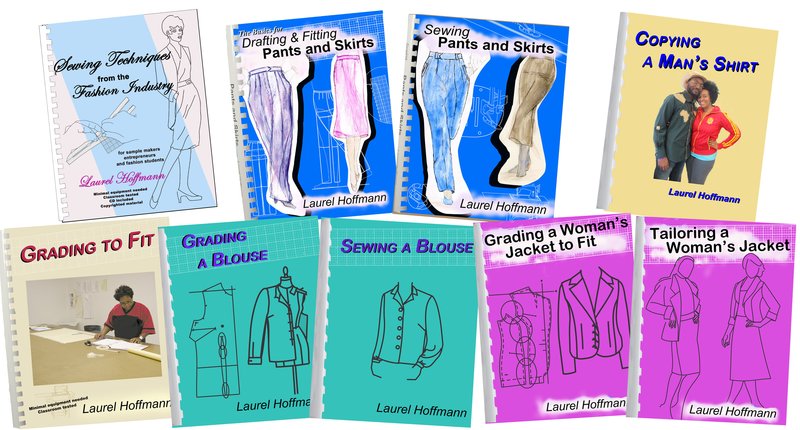 All of Laurel's books are available for sale to her private students.
You will learn the skills you need whether you have or are starting a fashion business, wish to work in the industry, and/or want to make exquisitely beautiful clothing for yourself. That is because the same information is needed for all of these situations. You will learn the material very quickly as professional drafting and sewing is logical and easy to understand.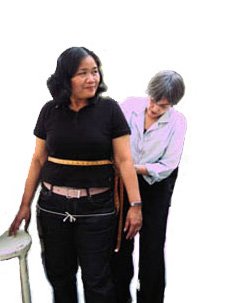 Laurel measures Marie on the left. The measurements are then entered into charts that help students speed the drafting process.

You will be learning how to take measurements, draft patterns and sew clothing for yourself. If you take the entire program you will have the skills you need to make any clothing you wish.
If you should decide to learn all the material in the program, once you have achieved an understanding of the program and have produced its sample books and sample clothing, you will be warded a certificate of achievement.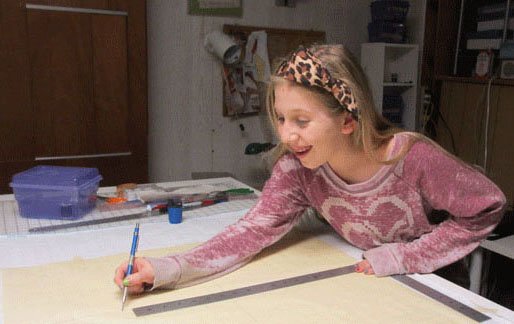 Some of the skills you will be learning include: Sewing techniques such as drafting from measurements (Shira, age 12, drafts pants, above);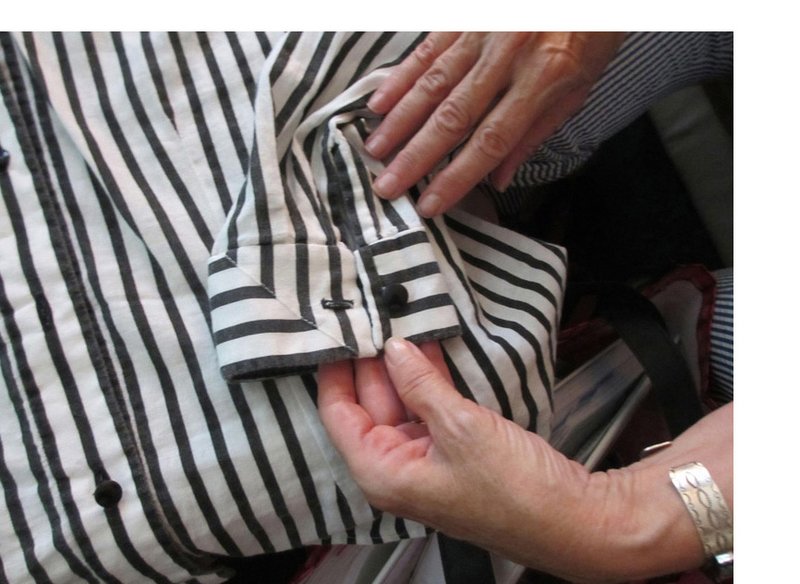 cutting and sewing to match (Anne's matching cuff, above ); zipper sets that require no pinning, yet close the seam edge-to-edge and, once learned take only 5 minutes to set; taking patterns off ready-made garments; grading; drafting supporting patterns; cutting; checking commercial (home sewing) patterns for mistakes; tracing patterns, while changing the seam allowance widths; pull-through that eliminates problems with sewing shoulder seams and hand hemming; cost analysis; plus much, much more.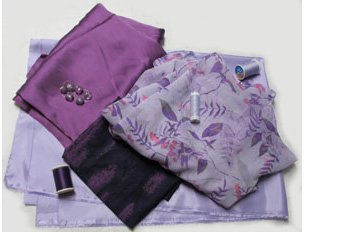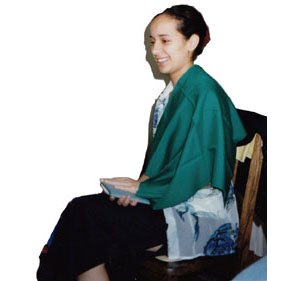 Included is personal color, color ways, and wardrobe analysis, shown in the picture on the right. Knowing how to use color ways and wardrobe styling will help you plan and organize your personal wardrobe just as it helps designers in the industry to design lines for sale in the stores.

Once you have learned these new technical skills you will have control over your sewing, You will work slower, finish faster. These new skills will give you confidence, ensure success, and enable you to produce exquisitely beautiful clothing at a fraction of its retail value.


Note:

In the primary slide Regina and Laurel discuss jacket drafting procedures. Regina's sister Anne, also a student, took the picture. Anne sews beautiful Irish dancing costumes for sale. The sisters have sewn all their lives. In the third and fourth slide Cheryl models her muslin to check and prove the fit of her bodice slopers, patterns she drafted, then used to determine grading coordinates she now uses to grade home sewing patterns. In the fifth image Judith checks her pant muslin to make sure her drafted pant pattern fits well.
##